Aidan Liu
(Team Pinnacle)
Speedskating dry-land done, my legs sizzled in pain under the intense training plan that we went through. Well, at least dry-land was over, time to go home. Instead, we were told to wait for a bit. 20 minutes, half an hour, 40 minutes. We were directed towards a small lake, with… boats? Panic seized me, as I hated the waviness of water, and embarrassingly, I had seasickness.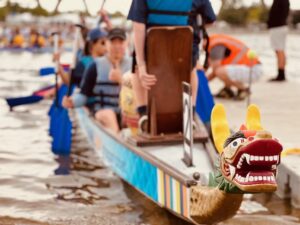 After a quick tutorial on the basics of paddling and the different commands they would give during the real race, such as "hold water", a command to slow the boat, and "paddles up", which told us to lift our paddles up. After a while, we seemed to be getting the hang of it, until it came to paddling. Ouch- we were hopeless at it, constantly hitting each other's paddles, yelling at each other, etc. By the time that practice was over, the whole team was second guessing our chances in tomorrow's event.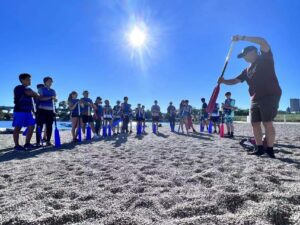 Coming into the festival on Saturday morning, I had zero expectations of achieving anything and a one hundred percent chance that we were going to finish last. Watching the other teams practice made us fall further into despair. "They're so much bigger than us, we'll never win" sputtered from my teammate's flabbergasted faces. "Those big men got arms the size of our quads, and legs the size of elephant trunks" said William Wang. Thanks, Will.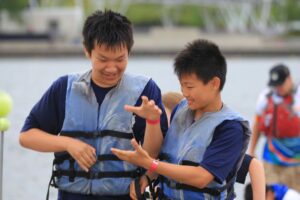 Before the race, we were told that place didn't matter. The actual value in experiencing this event was having fun and coming together as a team.
Fast forward to the first round. Teams were making fun of our name and our physique. We clapped back with some competitive banter. As the air horn goes off, we find ourselves in last. Our coordination seemed to collapse in the blink of an eye; we were just paddling at different speeds and constantly colliding with each other's paddles, and this caused us to yell at each other and fall back further. By the time the other boats were rowing back to the dock, we had just finished: the time was 91 seconds.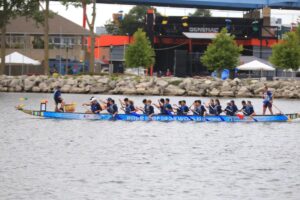 Collapsing at the shoreline, our team threw our paddles and life vests off as we  trudged back dejectedly to the tent. To add insult to injury, we were behind the 3rd team by a quarter of a minute. Our team was scolded at for our lack of team unity and spirit; our aimlessness and free-minded paddling; and complaining about the water. We began to argue but were silenced soon: we had to all get better as a team. No one was better than the other and we had to come together, rather than divide apart.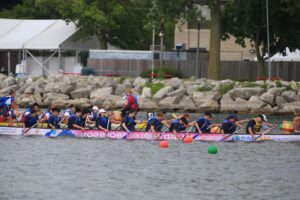 The whole team then went their separate ways to wander around the different sights and booths of the festival, whilst waiting for the second round. I was busy wandering around, taking in all of the Chinese culture around me; there were traditional clothing, food, and booths that quizzed you on random trivia questions about China that nobody except natives knew the answer to.
Next came the second round; we were threatened with a deadly workout on the following week if we came in last. Before the race, adjustments were made to the boat order so that the weight was evenly distributed among the front, middle, and back. Our steers person recommended that we do 3 sets of strokes counting to 5, and then sets of 2 until we finished.
This time, when we stepped into that boat, there was a different feeling. The will to win, perseverance, and team grit. When the air horn went off for the second round, our boat instantly took off. Victory was ours; getting off the boat this time didn't feel so bad. Given that we improved from 91 to 76 seconds this time, our team's surprising inconsistency was highlighted.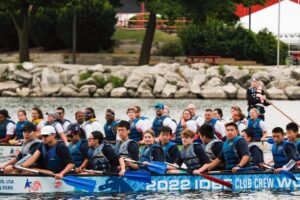 Meandering around the park, watching square dances taking place, and teammates failing at soccer and volleyball, the final round was within our sights. Our goal was to get a sub 70 second time, and the team was committed. Our hard work was rewarded with a 1-second victory over the second team, finishing with a final time of 75 seconds – a 1-second improvement. Because of this, our team was cemented as the champions… of the fourth division.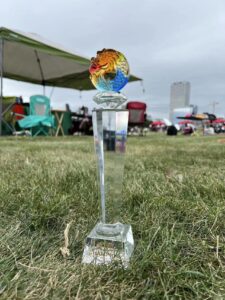 What I take away from this festival? We didn't need to be the strongest team on the water. All that mattered was how coordinated and unified we became as a team and tenacity in the toughest moments. Being one of the youngest teams was actually a blessing in disguise, as less weight meant that the boat wouldn't weigh down as much. Our team did much better than I had expected, but we have many more years until we can contend for a real title, which will require much more rigorous training and discipline.
感谢摄影师们拍下的精彩瞬间!
编辑:《密城时报》青少年版编辑部