Lari Li
"Let it ride!"
On instinct, my paddle went up to sail above the water; we had just crossed the line of our first race.
I immediately looked up, finally snapping out of my zone and taking in everything: Three boats ahead of ours, lake water in my eyes, and my clothes completely drenched.
Looking over to my seat partner, we grimaced at each other. We had just been saying how there was no way we were getting last. We were supposed to be the athletes, but we had lost to regular people. We got dead last: 10 seconds slower than first place in our race.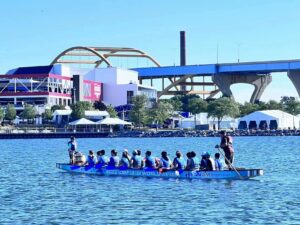 I could feel the disappointment practically radiating off our team. It nestled into my gut and stayed there, writhing. We had all came with high hopes thinking if we –as speed-skaters, could excel on ice– then we could surely do it on water.
We stepped off the boat disappointed, but that disappointment was short-lived and soon to be replaced with joy and satisfaction.
We had a few hours before our next race, and most people wandered about the cultural booths or got food. There were booths that had Chinese zodiacs, trivia, lots of authentic dishes, and a big stage where dancers performed. Watching the way the dancers moved to the music was nothing short of mesmerizing.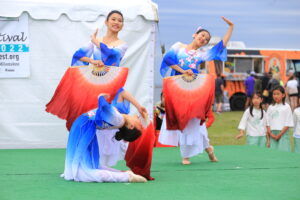 I was amazed to so many Chinese Americans of all ages gather up in one event, and I felt really in touch with my roots. I also enjoyed seeing so many kids along with other speed skaters that weren't competing.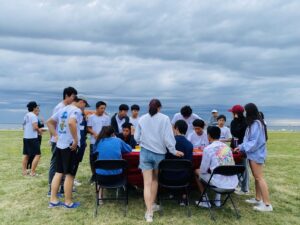 The break was very much needed and before our second race: the semi-finals. We gathered around and made a few adjustments. We changed our drummer so there was someone with a better tempo up at the front and the seating of the boat was changed so that everyone sitting behind them could follow along.
Knowing what to expect, we gathered at the start line, this time ready to bounce back from our previous defeat.
"Paddles up!"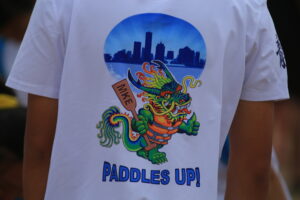 As soon as the horn blared, the energy on our boat was spirited. We were all unsettled from our previous race and within the first few seconds, we were significantly ahead; we were here to win.
As we crossed the line, I noticed that there wasn't anyone ahead of us or next to us. Triumph filled my veins and I grinned, noticing that I was a lot drier than the last race. We weren't as sloppy this time and fell in sync immediately.
I felt more teamwork spirit after the semifinals. We were more unified, in fact, we had improved by nearly 20 seconds, going from 91 seconds to 76.
Right before our championship finals, we came up to the start line feeling confident. The longer it took for all the boats to get lined up at the start line properly, the greater the tension grew.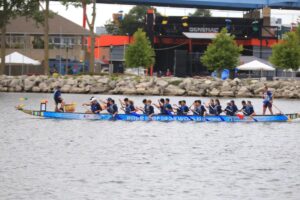 But as soon as the horn blared, all my worries washed away and I could feel the team focused once more on our only goal: beating our past time. Even though I was only focused on falling into sync with my team, I could tell that we were all determined and paddling with all our might.
When I looked back at old photos that were taken of us during this race, all our faces were twisted up because every single one of us were really focused on winning that race. Not a single one of us looked bored or too scared to paddle; we gave it everything we got.
I suppose that's where our competitive spirit came into play. As athletes, we're constantly being wired to win. As soon as we crossed the line, we erupted into cheers and shared laughs, winning in the champion round and getting first in our group.
After our last race, we spent more time in the booths, connecting with friends outside of our team. We compared all our race times and we improved by one second from our previous race; we went from 91 seconds to 76 seconds to 75 seconds, placing 7th overall out of 40 teams competing! Although there is still room for improvement, I can't wait for next year to rank higher overall. When the winners were being announced for each group, we stepped on the stage as champions.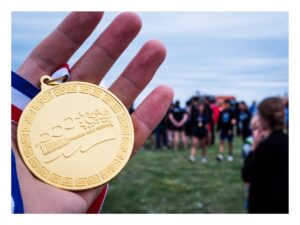 Milwaukee 2022's Dragon Boat Festival was truly a blast, and next year we're definitely going to aim for better and crush our records each and every time.
If you ever plan on going to any Dragon Boat Festival, I highly recommend it; it's exciting to watch and support your friends, along with get in touch with your cultural roots. You're guaranteed an amazing day once you go, and I definitely look forward to next year's festival!
感谢摄影师们拍下的精彩瞬间!
编辑:《密城时报》青少年版编辑部