By Shira Gui
During the summer of August this year, I went to a summer camp in China. This summer camp was held at Gengdan Institute of Beijing University of Technology, and was 10 days long. I arrived there from Chengdu where I've stayed for a week before heading to the summer camp. When my mom told me about the summer camp, I was very scared because I wasn't ready to join a summer camp with no one I knew well. Also my Chinese is not so good, and I wasn't confident to stay in an unknown place before I know how Chinese people were.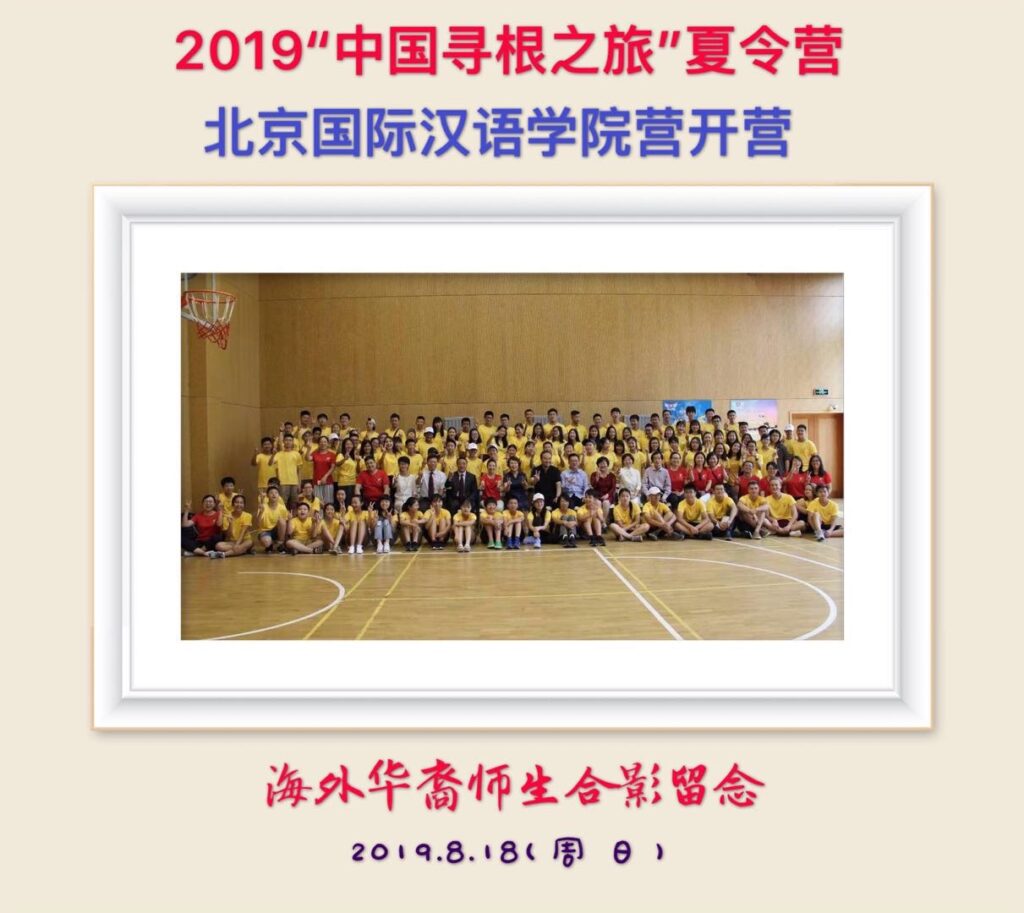 All the people there were very welcoming, and once the first day started, we got split into different groups based on where we are from. I was put into a group with other Americans, and they were just like me. They are young kids who were born in the United States with parents immigrated from China. Because of this, we all spoke English among our group, which made me feel much better. There were also other people from other countries around the world, such as Canada, Indonesia, Russia. There was also another group of Americans that were all from New York. That first day was an introduction and the summer camp rules that we had to follow during our stay at the summer camp were told to us. Each group was asked to go up on the stage and say our name in Chinese, and I remember that our group attempted to sing the United States National Anthem, but we failed as we were off tune and beat! It was also interesting to see other groups presented their National Anthem in their language. After that day, I was very comfortable with my group and we all became friends very fast!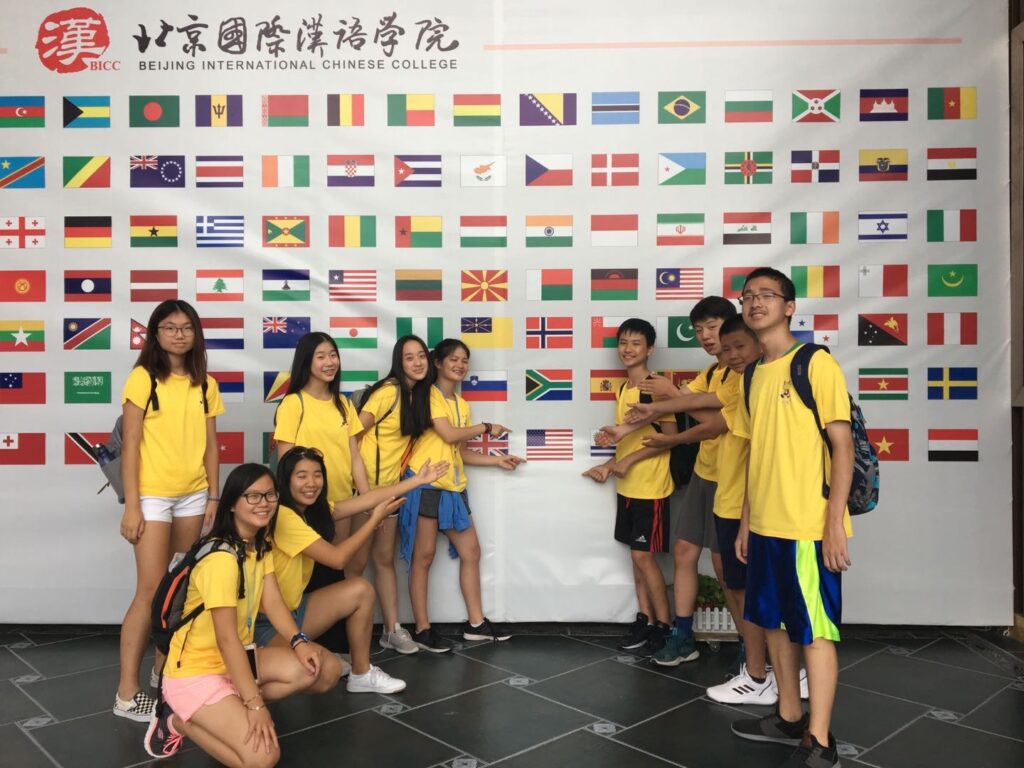 It was a bust summer camp. For the rest of the 9 days, almost every day we would go to 2 famous tourist attractions around Beijing. We would take the bus, and the bus ride would usually take around 1.5 hours to 2 hours. Some of the famous places we visited were historical places like the Great Wall, Summer Palace, and Tiananmen. In addition, we also went to many museums and landmark buildings like Olympic Square including the water cube, where the Olympics were held in 2008.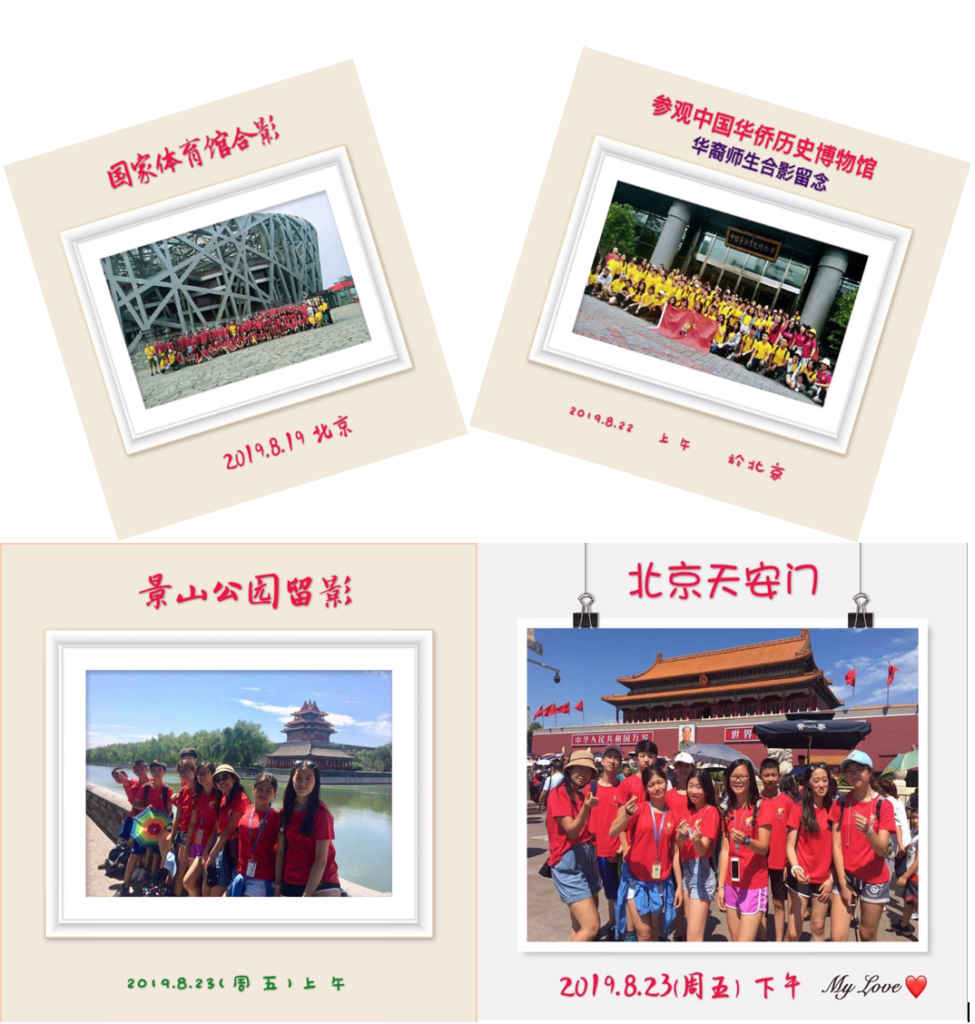 At the end of each day, we would have to write a short journal of what we thought of the day and we would call it our "diary" for the ten days. Also, for some of the days, we would have a badminton competition. It was good to watch and get some exercise, although there weren't enough rackets. A very critical recommendation that I have for being at the camp is to bring mosquito repellent. While waiting at the badminton competition, I got at least 15 mosquito bites. Another memorable activity that we did was playing the game of tug of war. Our whole group was against another group with 3 people less, however we still beat them. That was a great victory!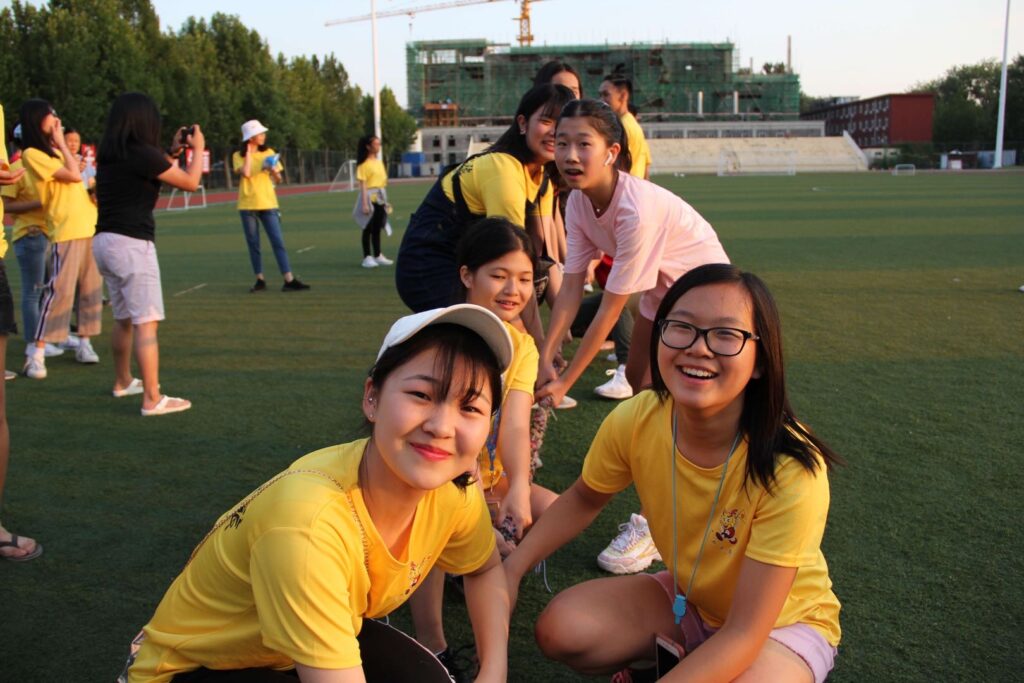 Even though we did go to a lot of places and explored a lot about China, some days we just stayed back at the College and learned a lot about Chinese history and culture. We had a teacher that had us listen to the differences between Chinese music from different places. Also, we learned about Chinese Arts and how Chinese people kept track of how many animals were hunted. They tied knots, and each knot stood for each animal that was killed. Also, the teacher showed us Chinese opera masks. While performing an opera, the characters wear the mask to over exaggerate the emotions. Also, the shapes and colors meant different things about the character. It would tell if the character was old, young, funny, brave, heroes, or were rebels. After, we even spent some time to paint our own Chinese opera masks. On the second to last day, we even had a Geography class. There, our teacher taught us different sections of China and what the climate was in each place.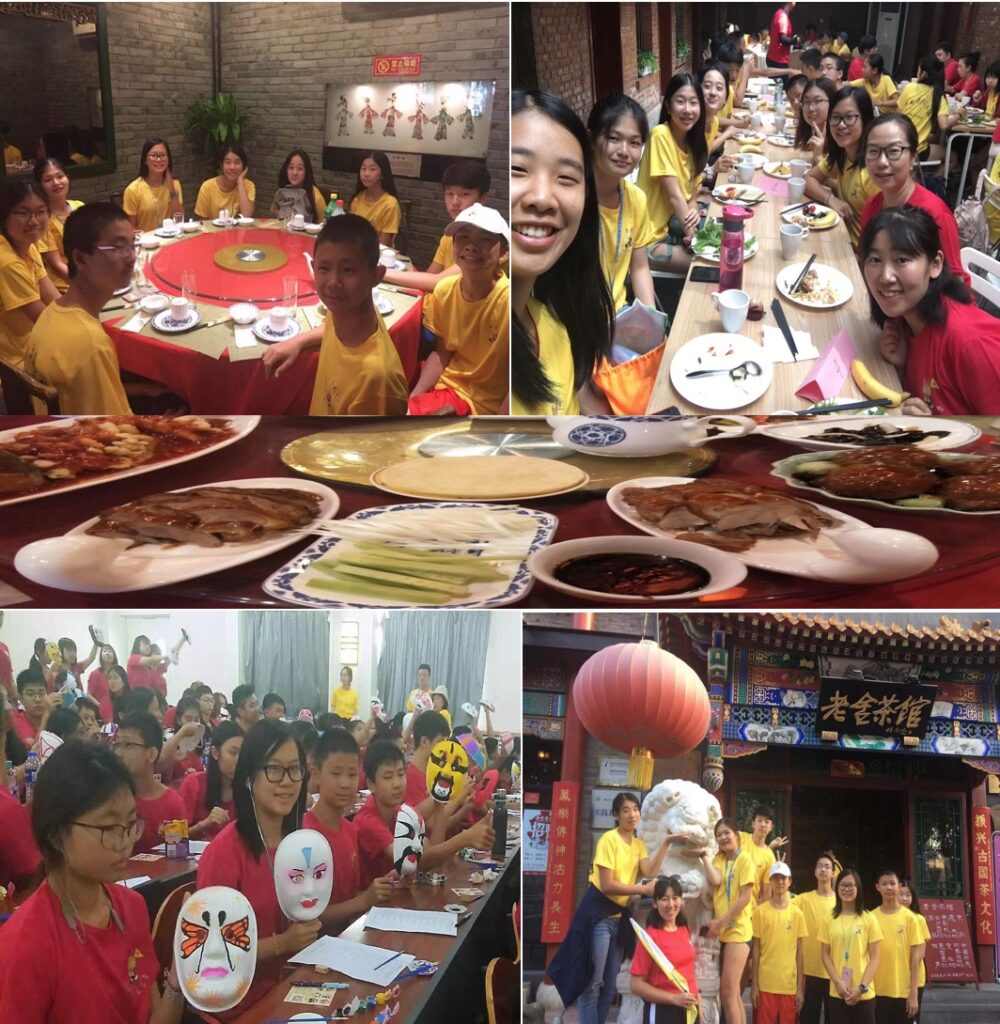 A very exciting part of the summer camp experience is watching the Acrobatics show. The acrobatics show in China was very similar to the ones in the United States. There were people that were doing very dangerous stunts and it keeps the audience on the edge of their seat. There were people juggling hats, doing bike tricks, and jumping over very tall hoops. The one that I liked the most was the one where a lot of motorcycles are in a hollow sphere all going at once in it. They would all bump into each other if the timing was off by even a bit because there were six motorcycles in total.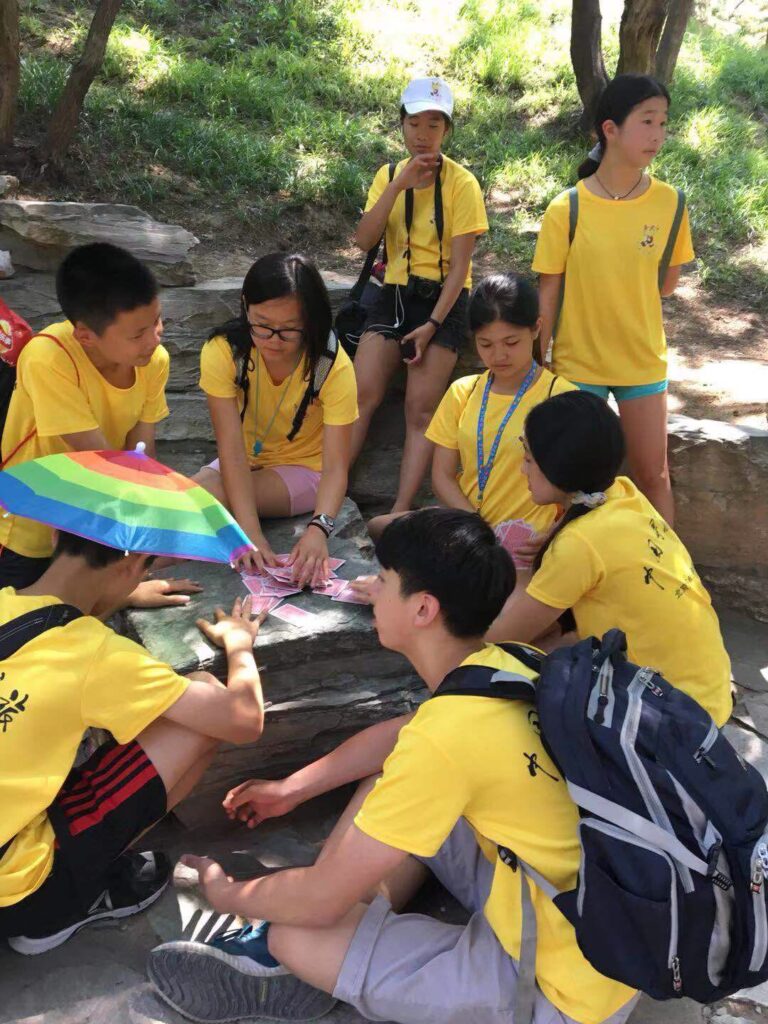 My favorite place we visited was the Great Wall of China. Actually the first time I went to the Great Wall was when I was six. Now at the age of 13, I have done many presentations and researched a lot about the Great Wall of China. I know that it took millions of workers and almost two thousand years for it to get built. Thousands of people also died from building it and many were buried within the wall. Not only is it interesting to know a lot about the place we are visiting, but also I love hiking and climbing, and even just getting some exercise. A couple of friends and I were the first to make it up to the top, and it was a very overwhelming experience to enjoy the beautiful view over the mountains.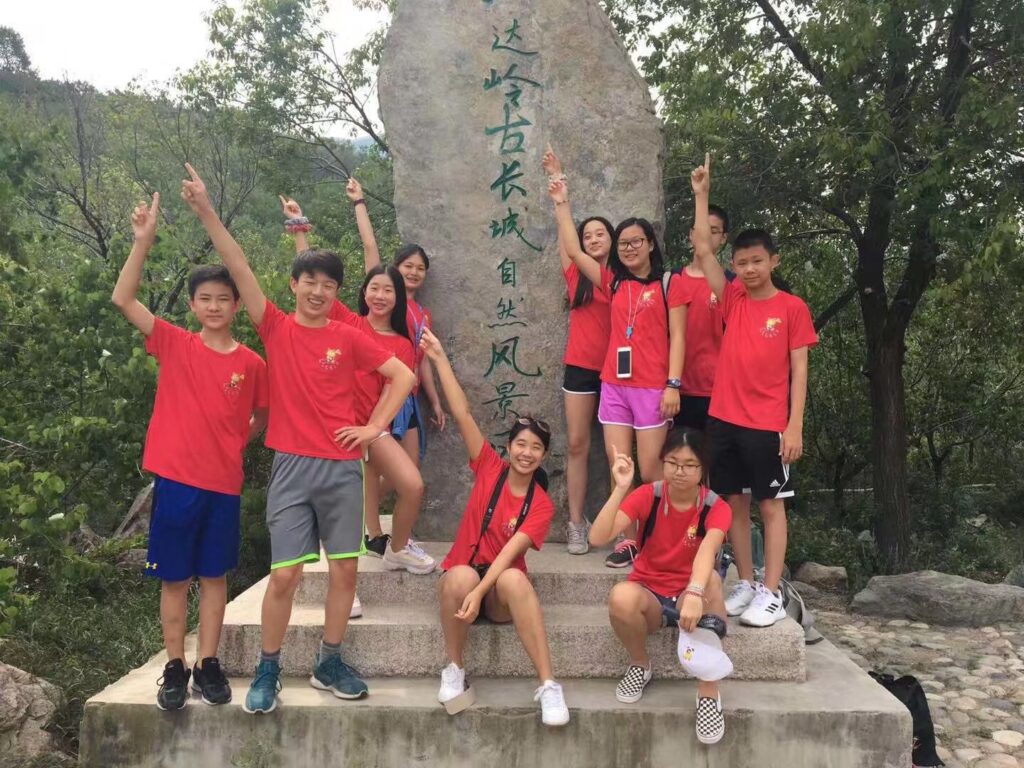 If given the chance, I would definitely go to another one of these summer camps, or anything similar to it. Other than what the summer camp provides, it is also a great way to make friends and have fun! I remember at the time of leaving, everyone was very heartbroken that we may not see each other again. Overall, I have experienced a lot about China at this summer camp, including its history, culture, and many famous tourist attractions. It will be in my memory with warm moments.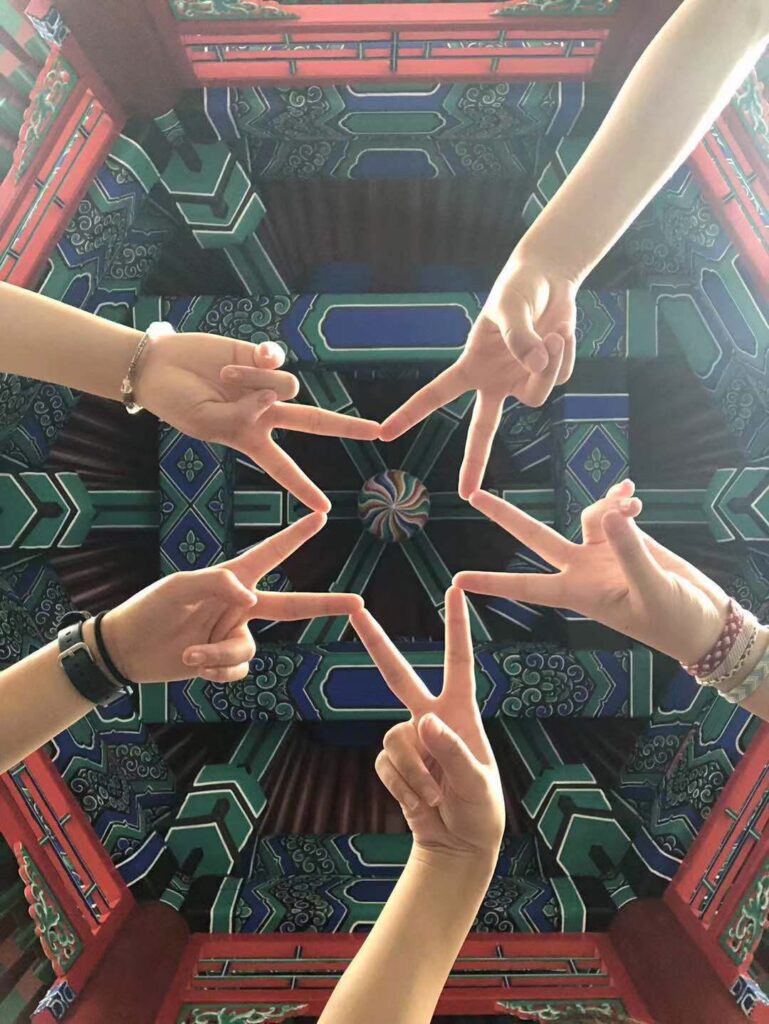 编辑的话:作者今年13岁,就读于Richmond School的八年级,也是密城现代中文学校八年级的学生。她喜欢网球,旅行,钢琴和制作视频。
图片由作者父母提供,版权归寻根之旅夏令营所有。