Mia Lee
We at the Milwaukee Chinese Community Center Youth Leadership Academy(MCCC YLA) know the drill. Every spring a new board is elected, composed of Chinese students from all over Milwaukee who are given the important duty of planning events – e.g. the Holiday Folk Fair, Dragon Boat Festival, China Lights – to raise money as well as awareness for the Chinese in our city. It is also the opportunity for us to find ourselves through connection. Sometimes, as an American-Born Chinese, I myself feel lost in the constant demands of my family's culture and the culture of the country I grew up in. But every time I am with the YLA, I feel the empathy of an entire community on my side.
Saturday's YLA Kick-Off Event at the Pettit National Ice Center demonstrated such. We learned how to persevere through our challenges, as well as how lucky we truly are to have Milwaukee and our Chinese community. Speaking at the event were Hongyang Wang and the Chinese National Ice Skating Team.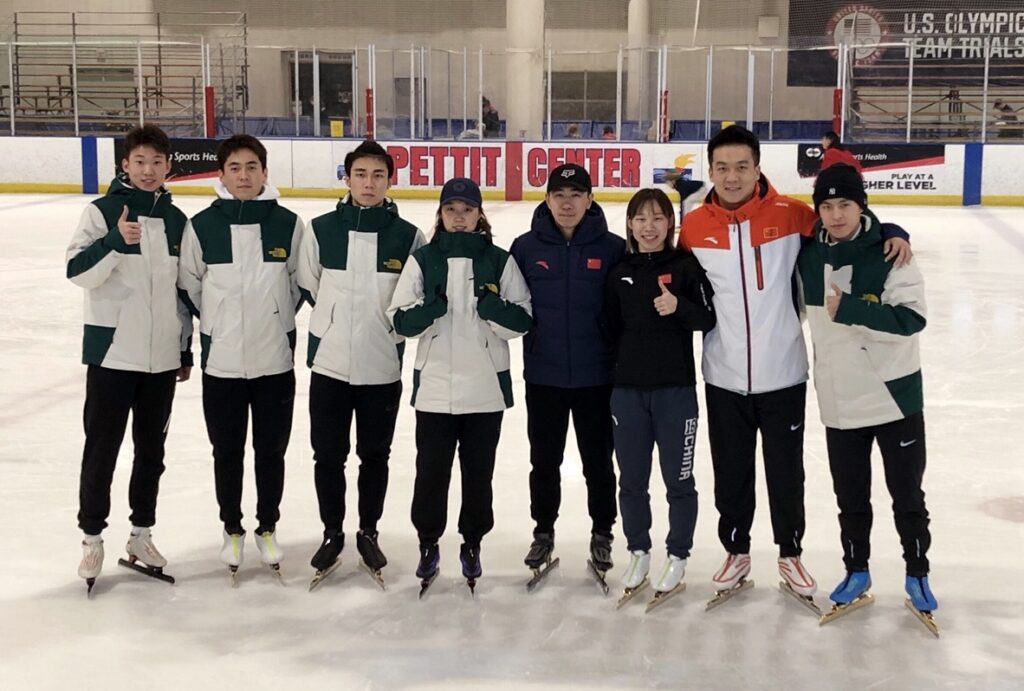 Why ice skaters? Because they know grit and optimism like no one else. An intense sport filled with endless competition, ice skating shapes individuals to become the best they can be. YLA was lucky enough to have some of the best skaters in the world talk to us about their impressions of America and how we can follow success in whatever path we choose to take in the future.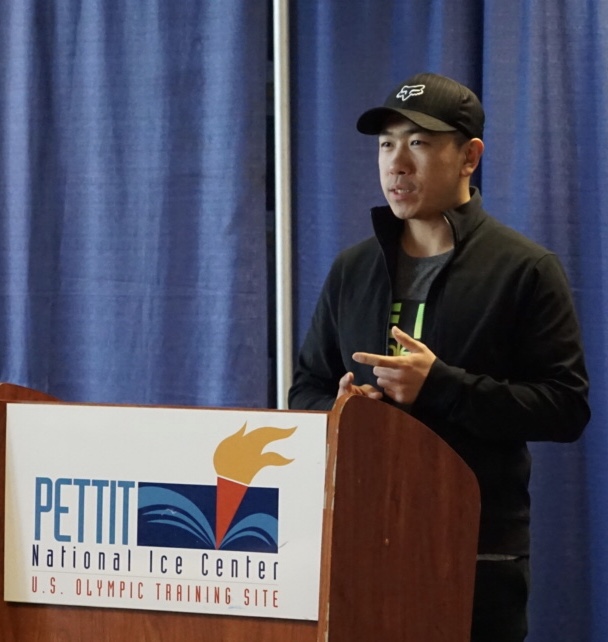 Introducing the team was Hongyang Wang, a coach at the Pettit Ice Skating Rink. A former Chinese National Team member himself, he now spreads his knowledge about short track speed skating in Milwaukee. He came to our city a couple of years ago after more than two decades of ice skating and fell in love with the support our Chinese community has to offer.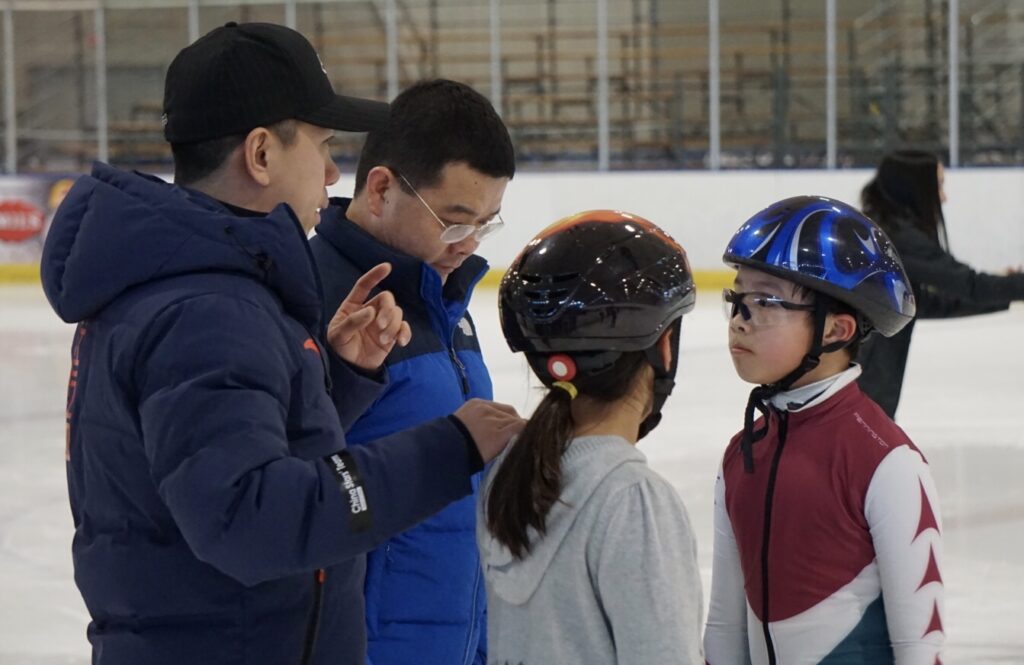 Wang then introduced the Chinese National Team leader, Xin He. Xin said that his team is only going to be in America for one month – in Milwaukee of all places. Milwaukee has an ice skating rink that rivals that of Salt Lake City's for top in the nation, but as the talented Chinese coach Hongyang Wang was here, the team decided to train in Milwaukee. He expressed gratitude for Coach Wang for having organized everything to get the team here.
What Xin He really loves about America from his time thus far is that it's "everyone's park". We can do absolutely anything we put our minds to in America, and it's not a study-oriented society like China's is. Athletics especially, he explained, are promoted here. It's something we as American-Born Chinese sometimes take for granted.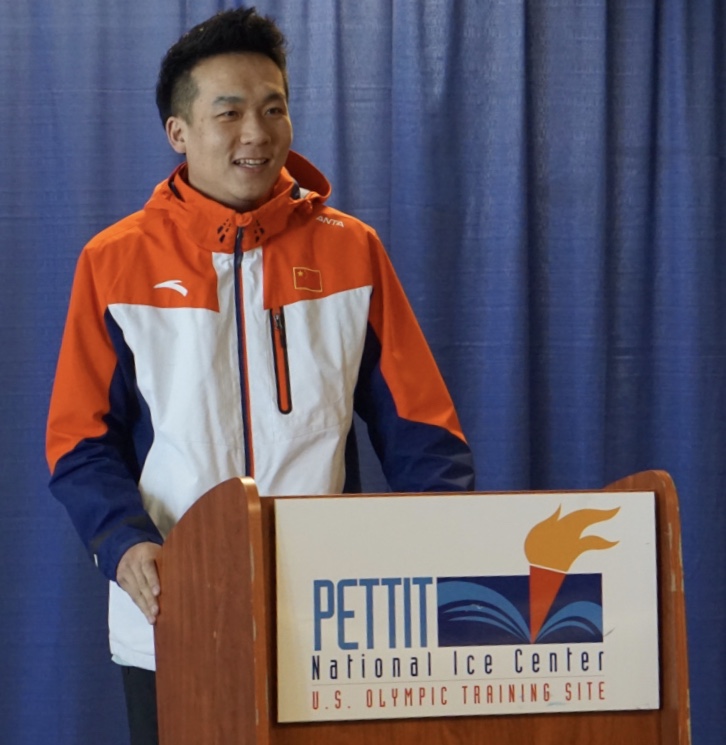 When asked how we should endure tough times, he declared that spirit is the most important thing on anyone's journey. Grit and perseverance get you where you need to go. He also assured that not everyone gets something right on the first try. The only difference between other life paths and athletics is that in athletics, there is only one gold medal. There are no participation trophies. That's where the competition truly kicks in.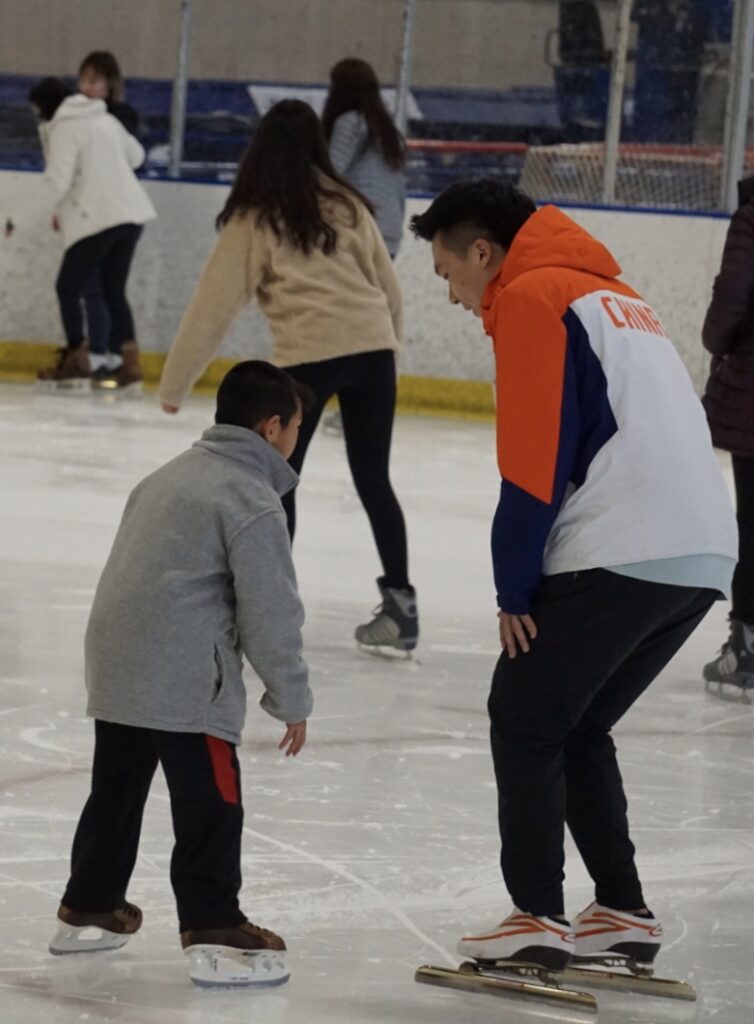 He then handed the spotlight over to his wife, Dan Guo, likely one of the most impressive women we will ever meet. She began skating at the age of 3, and after 21 years, she had won every possible award for inline roller skating there was. She recalls that at 17 years old, her dad told her that even when she retired, she has to do so lavishing in success. But Dan wanted more after reaching the peak of roller skating, and decided to give ice skating a go.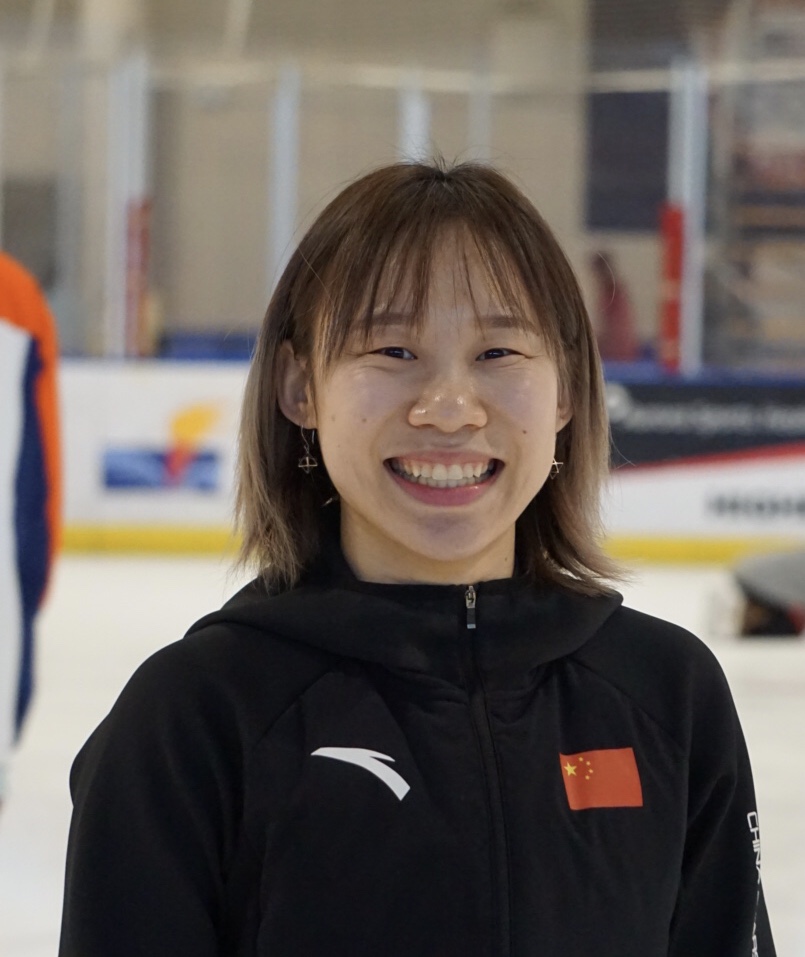 Against a troubling injury and the societal pressures for her to settle down and take a more traditional role, Dan is now a part of the Chinese National Ice Skating team alongside her husband. She aims at the 2020 Winter Olympics in her hometown of Beijing as her next target, with the goal showing the world that China truly is gold.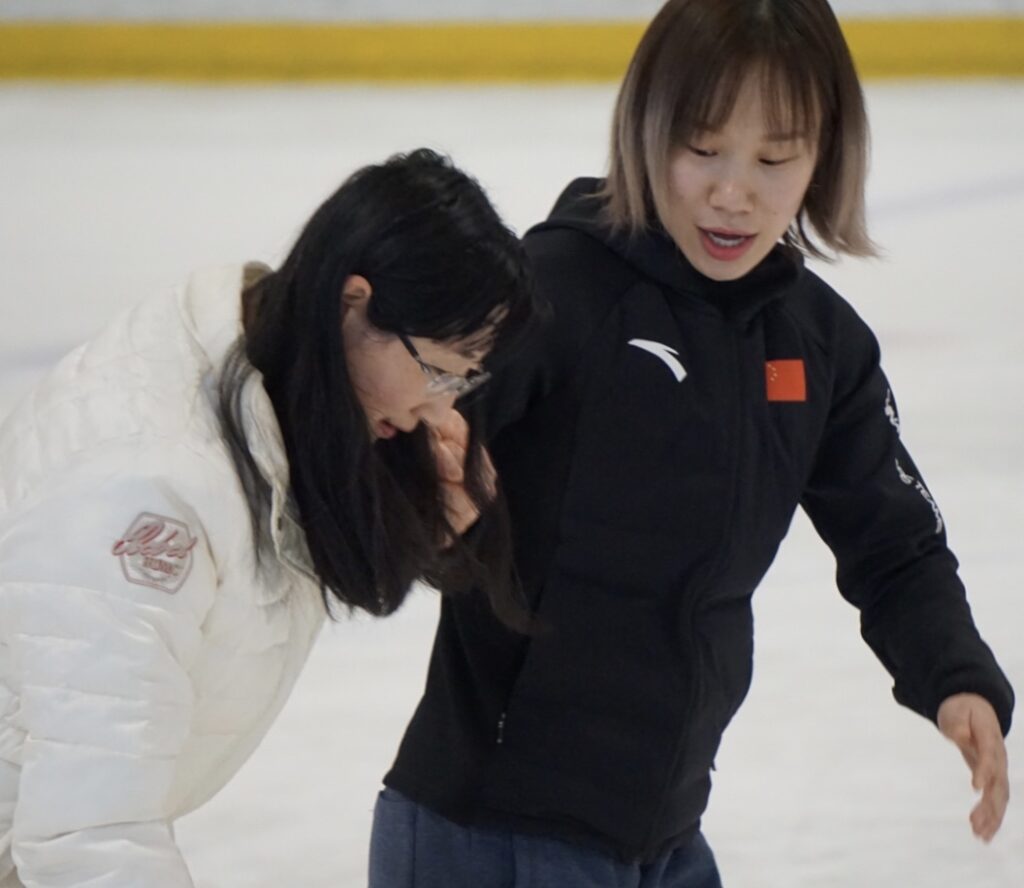 The three skaters had different perspectives and experiences, but running through all their words was the theme that we should go out of our way to achieve our own gold medal, no matter what that is.
And it's hard not to take that advice when it's coming from some of the best skaters in the world.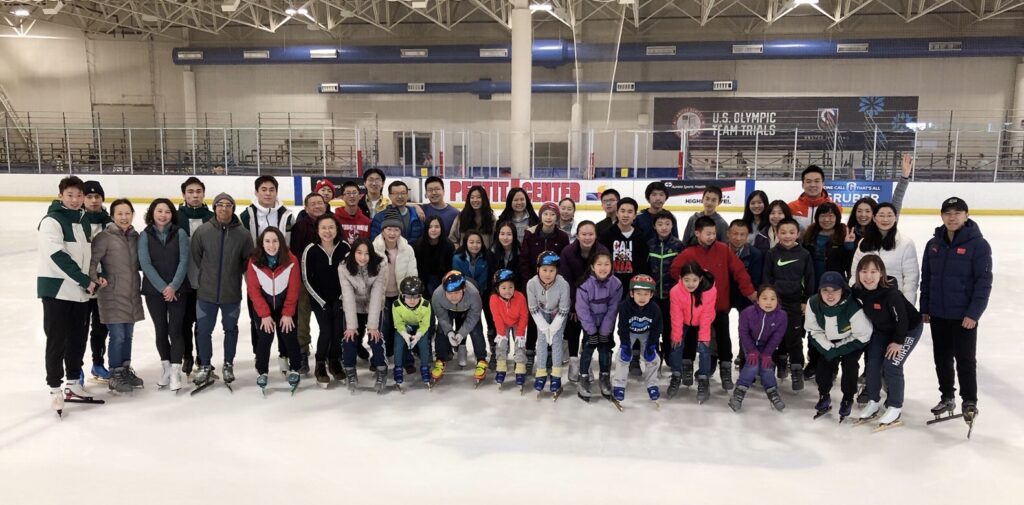 YLA is incredibly grateful for the empowering messages that Hongyang Wang, Xin He, Dan Guo and their team had to offer. The empathy and connection shared between the Milwaukee Chinese community and the Chinese National Ice Skating Team won't be forgotten!
Editor's note: Mia Lee is a junior at Nicolet High School. She is also one of the YLA Vice Presidents . She has been with the program for 5 years and is super excited to continue helping with a higher leadership position. In the YLA annual kickoff meeting, she played a big role and she is ready for the upcoming season.
Pictures provided by YLA