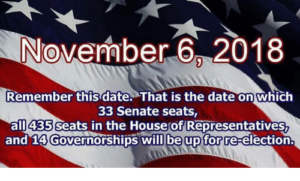 Emily Wang
America today is stuck in a divide.  There are no longer moderates. It's now either right or left. In this time of need, the country's fate lies in the hands of very little. In order to reach a decision, people's opinions matter more than ever. For the longest of time, midterm elections have had the lowest voter turnout out of any elections and there often is very small change. But does America need changing? This should be up to the people to decide. To do this, all US citizens should use their constitutional right to vote!
The Midterm is the name given to the combination of elections for the US Congress, governorship and local races that take place every two years.


The Midterm Election day this year is November 6th. They are national elections, sometimes described as "off-year" elections (basically the election that is not the president). 
The full 435-seat House of Representatives will be on the ballot for voting because the members serve a two-year term.
The senate has 100 members on its own cycle, each serving six-year terms. Only one-third of the Senate seats will be up for grabs at this election.
To vote you must be over the age of 18 years and a US citizen (not green card or visa holders). This vote will determine the senators and representatives in your state. It is extremely important. I urge you to spend a little bit of time researching what your district's candidates have to offer, and looking at the policies they support. If they are on the same track as you, vote for them! Every vote really does matter.
The steps to vote are also rather simple and easy to do:

First, make sure to register yourself. For Wisconsin, the last day to register is October 17 . You are able to do it online (https://myvote.wi.gov/en-us/RegisterToVote).
Second, figure out which candidate you will be voting for: the representative for your district, and senator for your state.


Third, check your availability on election day, November 6th. If you are not going to be in town, you can still vote! Absentee voting is if you cannot physically show up to your polling location and after you register, there is an option on the website to request for absentee.
Fourth, find your polling location if you WILL be in town. It should be easily accessible simply by putting in your street address. (https://myvote.wi.gov/en-US/FindMyPollingPlace)

Finally, VOTE!  This part will be the easiest, but also have the most impact. Photo ID is required to vote in Wisconsin. If you do not have an approved form of photo ID, you may vote provisionally.
Ready, set, VOTE!
Pictures: from internet